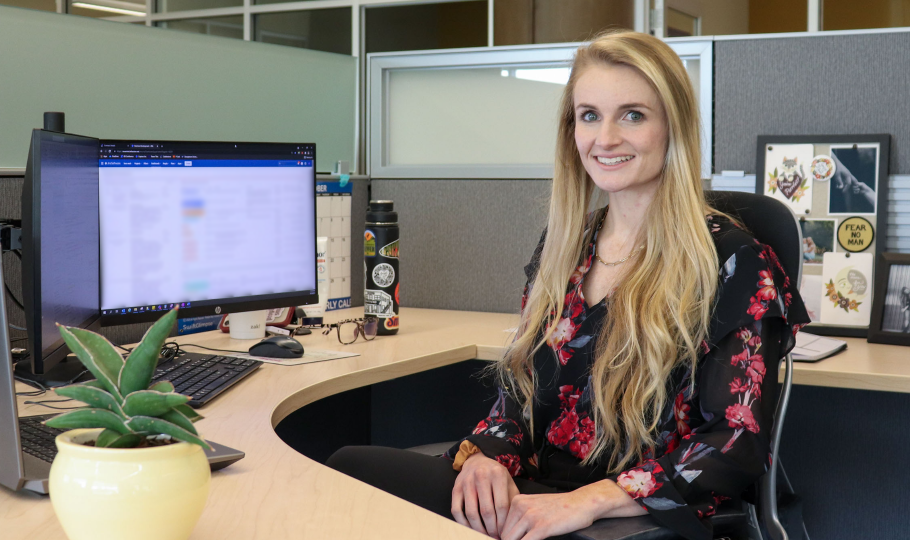 Provide a brief overview of your education and job history.
I grew up on the east coast and had the opportunity to live in many different places due to my parent's professions. I attended Flagler College in St. Augustine, FL, where I earned a degree in Journalism. I wrote for a few different publications during school and took particular interest in covering military and politics. At the time, my goal was to work as a foreign correspondent, but life happened, and I took a great opportunity for a youth sports non-profit in Marketing and Corporate Partnerships. I worked there for a few years after graduating.
My husband joined the Raven Aerostar team in 2018 and I was fascinated by the work he was doing. I wanted to be part of it. I initially applied for marketing positions because that was what I felt confident doing, but I ended up being pushed out of my comfort zone. I was hired as a Project Analyst Intern for Raven Aerostar in January of 2020. When my internship ended that summer, I was brought on full-time as a Government Contract Administrator. If you aren't having trouble keeping up with the titles yet, let me add one more! A few months later, I took a stretch assignment on the Radar Business Development team, which led to my current role as a Business Development Specialist.
Provide a brief overview of your current role and responsibilities at Raven.
As a Business Development Specialist for the radar team, I seek and capture new opportunities that align with Aerostar's strategic initiatives. On a normal day, I spend time engaging with customers on new or existing programs and working with engineering to develop solutions to meet their needs. In addition to that, I have been involved in developing and implementing government-compliant businesses processes. The latter has been a significant focus at Raven Aerostar as we have started to gain recognition as a reputable aerospace and defense contractor.
What's your favorite part about working at Raven?
My favorite part of working at Raven is how insanely smart my colleagues are! I have said this before (and I'm sure I'll say it again), but my life philosophy is "if you're the smartest person in the room, you're in the wrong room." This has never happened to me since I started here. The team members I work with have some of the most expansive resumes you've ever seen. They're awesome.
What makes the Raven culture unique?
The Raven culture is unique because it's built into our team members. Every person demonstrates characteristics like integrity, courage, and humility — not just because they are Raven values, but because that is who they are as people. There is a deep connection to the mission of our customers that drives everything we do.
Which Raven Values are displayed the most in your everyday work?
In my everyday work and my personal life, I try to focus on authenticity and service. It's hard to put into words how it is demonstrated in my daily work. It's more of a continued effort to be honest, reliable, and to put others first. Some days this means going above and beyond to provide for our customers, and other days it involves simply admitting you were wrong and making things right.
How do you solve great challenges in your role?
Working in business development is exciting because we get to see the challenges our customers are facing up close. In my role within the maritime market, I primarily work with defense industry customers to offer solutions that support the warfighter. It is rewarding to see our mission to Connect, Protect and Save Lives applied in real world situations.
How do you make a difference as a Raven Ambassador?
The best part about being a Raven Ambassador is getting to take part in the community outreach efforts — especially getting kids involved in STEM! When I was younger, I didn't know stratospheric balloons existed, let alone all of the other technology that goes with it. Hanging out with kids and seeing the amazement on their faces when you explain how something works is one of the best things ever. As a non-engineer, I never considered jobs in technology, so I like to share that with the older kids as well — there is a seat at the table for all talents.