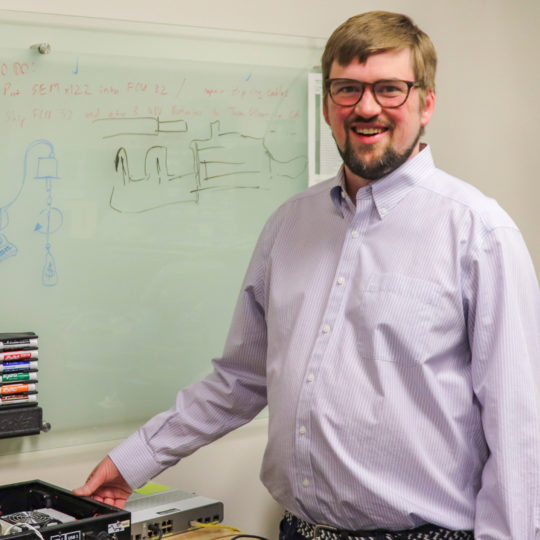 Provide a brief overview of your education and job history.

I went to South Dakota State University for five and a half years and got a few degrees (Electrical Engineering, Computer Science, and Math) before I decided it might be good to get paid to do work, rather than paying to keep getting assignments. After that, I got my MBA from the University of South Dakota.
Before Raven, I worked at another company for 12 years, designing video compression and satellite broadcast products. I had a chance to try out various roles in engineering, project management, and technical management. When I left, I was serving as Director of Product Management.
Provide a brief overview of your current role and responsibilities at Raven.

At Raven Aerostar, I work as an engineering manager for our Stratospheric Platform products, including Thunderhead, Lightning, and Cyclone. We primarily work with government, research, aerospace, and defense customers. I get the opportunity to guide our development efforts, working with our business development team to make sure that our products have the right features and functions to be useful to our customers. I enjoy getting to participate in technical discussions — especially regarding architectural topics, new concepts, or new research initiatives. The opportunity to get into the field and see how our products are being used is critical to keeping good perspective, and I'm passionate about supporting our flight operations team as they go out into the world, exercising the unique capabilities that our systems provide.
What's your favorite part about working at Raven?

Since I started here a few years ago, it's never been boring. I've loved being part of the Thunderhead program as it's grown from a handful of engineers to 40-plus full-time staff, and as we've gone from doing dozens of balloon launches per year to hundreds. The customers we're working with are pushing the boundaries of what can be done with our technology, which means that we always have a new problem to solve. And the team that I get to work with is incredibly talented — but even more than that, devoted to our mission. It may be cliché at this point, but I believe within our group we are truly Solving Great Challenges.
What makes the Raven culture unique?

Many things. I'd pick on a couple, particularly…
The team's constant hard work and dedication. There's never been a time when we've needed someone to "go the extra mile" in support of one of our customers and they haven't stepped up to the plate. I also love the general spirit of comradery. I never hear anyone say, "that's not my job." Everyone just digs in and figures out how to help.
The overall company culture really values and empowers learning and growth. I've had the chance to stretch both in my technical and my "soft" skills. The company has been there to support me with training and new work opportunities every step of the way.
How do you solve great challenges in your role?

Aligning our engineering, operations, customers, and program management teams on how to engage our considerable design and development capabilities brings a new challenge every day. Managing stakeholder expectations; making sure everyone's input is captured and reflected; and passing actionable guidance down to the rest of the engineering team is an exercise in balancing both broad technical thinking and good communication. It may not sound like A Great Challenge to some, but it's something I really enjoy.
How do you make a difference as a Raven Ambassador?

I've enjoyed volunteering for, and participating in, events where the Raven Ambassadors get a chance to serve both our team members and our external communities. I've gotten to serve at The Banquet, provide tours of our facility for visitors, help with new team member orientation, and support Q&A at shareholder meetings. Raven truly cares about being a responsible citizen of our industries and cities, and I enjoy getting a chance to demonstrate that. Being an Ambassador also gives me an opportunity to stay connected to what Raven is doing across all of our businesses, and to talk to folks outside the company about those developments. We're engaged in a lot of exciting things, and I seldom leave a conversation without someone saying "wow" at least once!