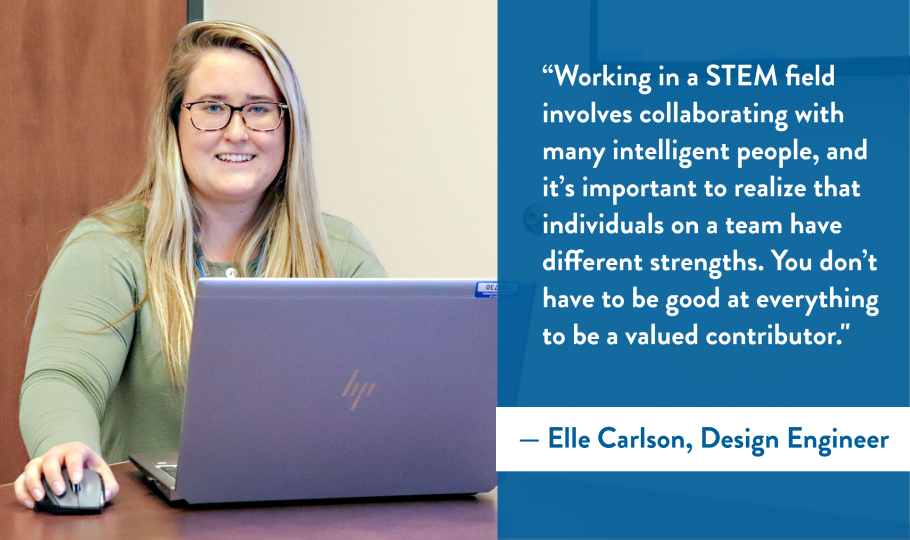 This month's Women of Raven Spotlight is Elle Carlson, Design Engineer for Raven Aerostar.
Provide a brief overview of your education and job history.
I graduated from Embry Riddle Aeronautical University with a degree in Mechanical Engineering in 2019, and I am currently pursuing a Master's in Engineering Management from the South Dakota School of Mines and Technology. I previously held an internship with a cement plant, where I focused on process improvement and implementing industrial hygiene measures. I also used to work as a Flight Engineer at Raven, launching our stratospheric balloons.
Provide a brief overview of your current role and responsibilities at Raven.
I now work as a Design Engineer for Raven Aerostar. I recently moved over to our new systems and reliability team, where we focus on process engineering and provide a link between design engineering and documentation. My core responsibilities include managing our radar systems' Field Issues project management board, performing radar field tests for our software team, and — more recently — working on organizing our processes with obsolete and long lead parts.
How do you use math and science in your role?
I use math in evaluating performance metrics for the Radar Field Issues Board. Our project management software has great tools for generating reports to identify areas where many of the field issues stem from. This could include issues related to components, product lines, and even age of the system. I learn something new about our systems nearly every day. I have only collectively worked on both the stratospheric and radar teams for about 18 months, and the science and engineering behind these products are truly incredible!
What inspired you to pursue this career path?
When I was younger, our school held a competition on Pi Day (March 14) to encourage students to apply math and science to something more fun than writing equations on a board. You could choose between building a Rube Goldberg machine, a toothpick bridge, or a ping-pong ball catapult. I chose to build the toothpick bridge, and I think I probably knew I was destined for engineering when I built three separate designs in my spare time and tested them all before the competition. Or, maybe, I was just a little too competitive for my own good…
What is the most rewarding part of your job?
When I was a Flight Engineer, it was — hands down — working with my launch crew. We all worked incredibly hard to ensure the balloon had a clean and safe launch. Watching one of our balloons on ascent has got to be one of the coolest things I will ever see in my lifetime. Working on the process engineering side of things, I feel the greatest sense of accomplishment when field issues come to resolution and when field testing runs smoothly.
What advice do you have for young women who are currently pursuing or considering pursuing a career in a STEM field?
Be comfortable with the skills that you bring to the table. Being different in any situation can feel and be uncomfortable — but learn to capitalize on what sets you apart. Diversity in my current role is about bringing different ideas and experiences together and finding the critical path towards resolution. Working in a STEM field involves collaborating with many intelligent people, and it's important to realize that individuals on a team have different strengths. You don't have to be good at everything to be a valued contributor.
If I had another piece of advice to offer, it would be to surround yourself with a support system. It's much easier to maintain a positive outlook and growth mindset when you have teammates and leaders that actively support your career objectives. The same is true for friends and family; find the people that make the tough days a little better, and the good days great!