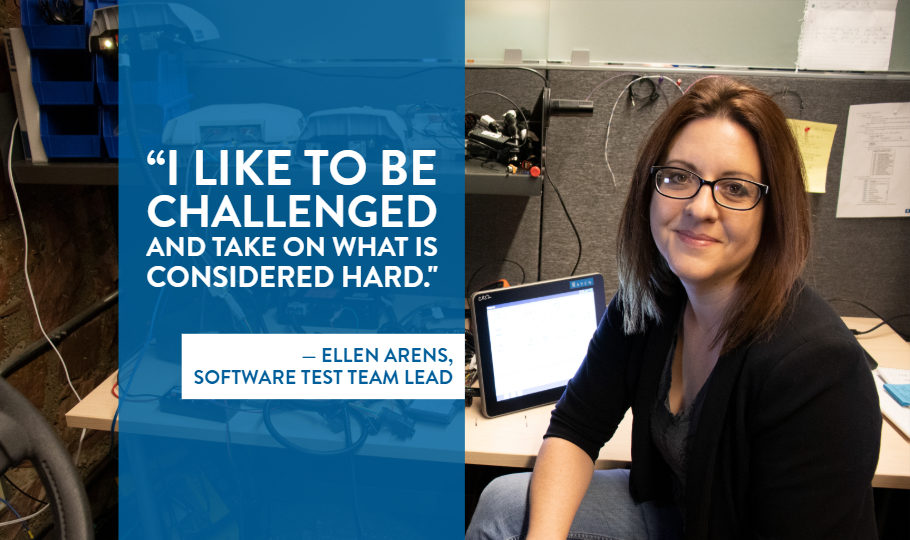 Jan. 23, 2019
This week's Women of Raven Spotlight is Ellen Arens, Software Test Team Lead for Raven Applied Technology.
Tell us about your education and job history.
I grew up on a farm outside of Frederick, SD and I remember being enamored with science and astronomy. At age 17, I decided that I was going to work for NASA. To make that happen, I started my education at South Dakota State University, and then decided to take the leap, jumped in a car, and headed to Florida (with the hope that proximity would help make the dream come true). Through a combination of naiveté and determination, I ended up working for NASA in a physics lab at Kennedy Space Center, FL. I finished my Bachelor's in Physics and completed a Master's degree in Electrical Engineering as well.
As the space shuttle program came to an end and my children grew up, I wanted to look for an opportunity that would bring me closer to family. I was lucky to find a great fit at Raven that kept me challenged and allowed me to be closer to home. I started at Raven as a software developer and am now lead of the software testing team.
Tell us about your current role and responsibilities with Raven.
I am currently the lead for the software test team. With that role, I get to be involved to some extent with every new product. My current role covers a lot of different skill sets, including systems engineering, test engineering, some software development, requirements management, and people management. It is a role that I did not plan on growing into, but I think it is a good fit with my personality and background.
How do you use math and science in your role?
While working for NASA, I got to put my science and math background to use with projects involving development of unique tools for space shuttle processing and hazard detection, as well as investigation and non-destructive evaluation of equipment and space shuttle components. Those projects used knowledge in thermodynamics, radiation, and optics heavily. As the space shuttle program came to an end, I was privileged to be part of a team developing a scientific payload for a rover mission, which continued to use my science background and introduced me to controls and testing. Those skills lent themselves well when I transitioned to working for Raven as a software developer for application controls. Moving from NASA to Raven used many of the same skills, but with a much bigger rover in mind.
In my team lead position, I do not use science and math as directly as I once did. But, a fundamental understanding of statistics, software development, and control systems is essential for good decision-making processes that must weigh risk versus reward when determining what to concentrate on testing and what to accept as known issues in our software releases.

What inspired you to pursue this career path?
I like to be challenged and take on what is considered "hard."
What is the most rewarding part of your job?
The most rewarding part of my job is the people. I am fortunate to be part of a company of people with amazing drive and integrity, and I am proud to be part of a team like that.
What advice do you have for young women who are currently pursuing or considering pursuing a career in a STEM field?
My main piece of advice is to not stand in the way of yourself. I think I succeeded in STEM because I never asked myself if I could do something. I assumed that I could and that it would just take varying levels of effort to achieve it. There is a quote by Henry Ford: "Whether you think you can, or you think you can't — you're right."
I love STEM because I get a huge sense of satisfaction when I put time into theorizing, planning, and calculating, and then can see all that effort materialize in the real world.

— Ellen Arens