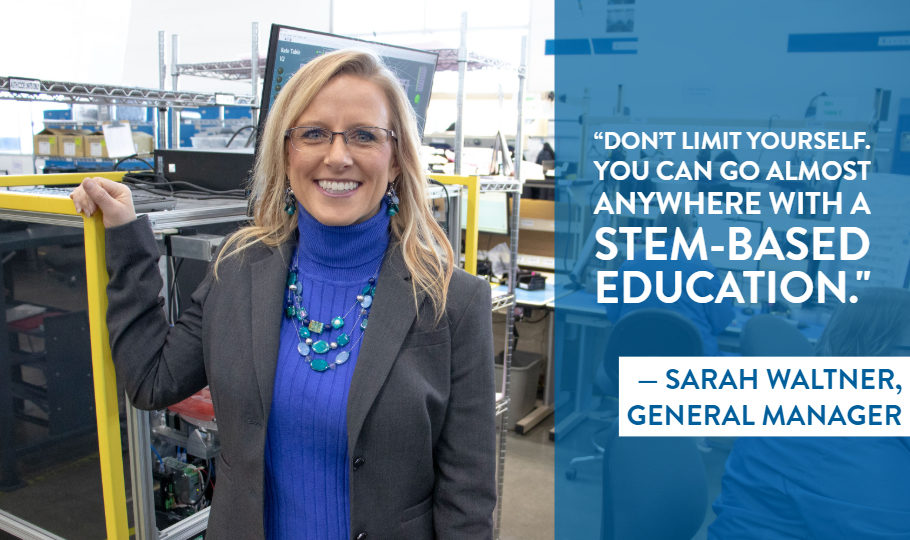 Jan. 16, 2019
This week's Women of Raven Spotlight is Sarah Waltner, General Manager for Raven Applied Technology.
Tell us about your education and job history.
I have a Bachelor of Science in Electrical Engineering. I had an internship at Raven when I was at South Dakota State University. I started as an engineer in the former Electronic Services Division at Raven in 2002. I then held roles as the Director of Six Sigma for corporate, Materials Manager, and then Director of Support Operations for Electronic Services. Then, I led the integration of the Electronic Services Division into Raven Aerostar, serving as the Director of Operations for the integrated business unit. After that, I became the Director of Operations for Raven Applied Technology, and am currently serving as the General Manager of Applied Technology.
Tell us about your current role and responsibilities at Raven.
I am responsible for the Europe, Latin America, and Slingshot business units, division-wide operations, and much of the general day to day business of Raven Applied Technology.
How do you use math and science in your role?
Much of engineering is problem-solving and developing working systems. I do that every day, and that is one of my favorite parts of my job. Adding logic, seeing patterns, and creating solutions and systems are all things that I manage. I don't use the more advanced math I learned in my current role, but I use a lot of math and logic in reviewing finances, setting business plans, and budgets.
What inspired you to pursue this career path?
I pursued engineering because I absolutely loved math and enjoyed problem solving. I chose Electrical as the type of engineering because it had one of the hardest math requirements, and I loved that so much of it involves working with things that you can't see. That fascinated me.
What is the most rewarding part of your job?
In my current role, the most rewarding parts of my job are helping people tackle hard problems, achieving excellence in business, setting up systems and business processes to work smarter and not just harder, and seeing people achieve what they didn't think possible.
This is not unlike what I love about engineering. I love complex business problems that people think can't be solved, or are hard to solve, and working with a team to persevere in determining how to move forward to a solution. I love tackling hard, meaningful work with teams, and coming out the other side successfully.
What advice do you have for young women who are currently pursuing or considering pursuing a career in a STEM field?
When I started as an electrical engineer, I felt like I was the only one who didn't tinker with electronics in my parent's garage. I think it is easy for girls to think that their interest in STEM has to look like it does for boys. Instead, think about what you love to do.
Think about what you love to do. Do you love systems? Do you love math? Do you love determining how things are made or why things happen? Some of the best professionals I know were not the ones who perfectly fit the box in high school or college.
Don't limit yourself. You can go almost anywhere with a STEM based education. It is an incredible starting point. You don't have to decide now that you want to write code for the rest of your career. You can do that, or you can manage people, or you can take on the business side, or you can do so many other things. The STEM foundation is a wonderful place to base the rest of your career.
Spend time doing the hard work, and also focus on understanding concepts, looking at patterns, and really understanding what is going on.
Have fun! You don't have to love or be great at every aspect of it.
I have learned, personally, and from working with many women and men in my career, that confidence is often approached differently. Men feel confident, so they try things. Most women gain confidence after they conquer things. This often keeps women and girls from trying things because they don't know if they can do it.

If you want to be confident, try. Who cares if you fail or struggle? We all fail and get back up again and keep trying. Look at confidence differently. Rather than saying, 'I wish I had confidence to do that,' say to yourself, 'I want to have confidence, so I need to tackle that, because that will help me get confident.'


Don't let yourself be isolated. Have a mentor; have peers who support you.

— Sarah Waltner