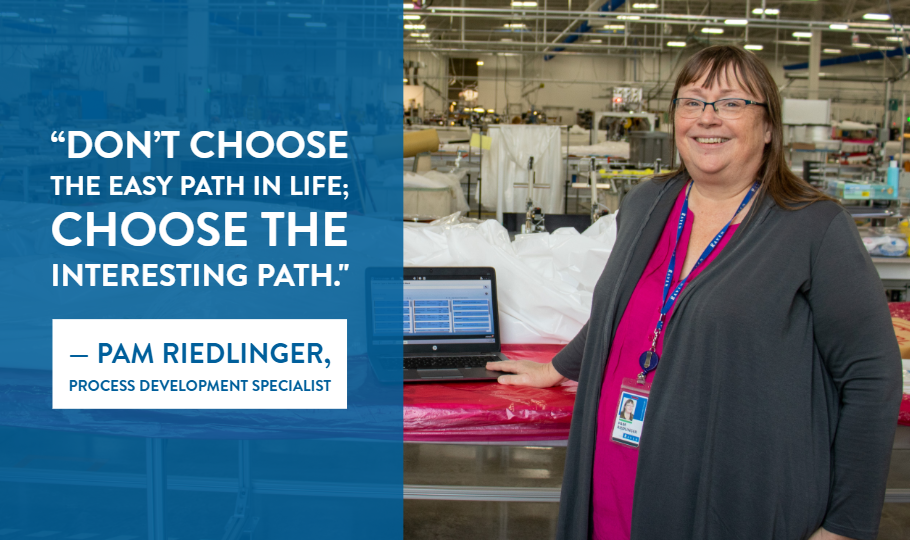 May 21, 2019

This week's Women of Raven Spotlight is Pam Riedlinger, Process Development Specialist for Raven Aerostar.
Provide a brief overview of your education and job history.
I attended a local vocational-technical school and graduated with an Associate's degree in Accounting in 1979. I worked in the accounting field for about 8 years. But, after my husband and I started our family, I wanted to be home with my children; so I started a home-based daycare and operated that for 10 years.
In 1997, my career at Raven began, and it has been a journey with many twists and turns. In the last 23 years, I have had five different job titles and many different responsibilities. I started at Raven Aerostar as an Assembler/Installer and took the position for two reasons: I liked to sew and the schedule worked for my family.
Here are just some of the things I have done here at Raven since then: I have made inflatable costumes for commercial characters, repaired and re-certified survival suits, and set up production for personnel parachutes. I even worked in Raven Applied Technology as a Production Coordinator for a time!
Provide a brief overview of your current role and responsibilities at Raven.
I am currently a Process Development Specialist for Raven Aerostar. In this position, I use the technical information created by customers and our engineering team to write documents that are used by our production team members to aid in the manufacturing process — for example, process instructions and deviations.
My role also involves some project management — working with our customer to manage changes to current products, and tracking the changed cut-ins and new parts. Then, I work with our production team members, training for the new assembly and updating their process instructions.
How do you use math and science in your role?
In my current role, I use hands-on math and science to analyze and problem-solve every day. For example, I need to know when a product will come through the production flow. I use estimation to figure out the production rate and where it is in the flow. Or, if I need to know how much film is on a partial roll, a ruler and percentage math gives me the answer. Or, if I need to figure out how to gift-wrap a bicycle that is assembled and not boxed — we needed a lot of problem-solving for that! (Pam is referencing Raven Aerostar's 2018 holiday bicycle donations. Read more about this donation in the Corporate Philanthropy section of the 2019 Raven Impact Report.)
What inspired you to pursue this career path?
As I stated earlier, my journey at Raven has had many twists and turns and along the way; and I have been blessed to work with many talented engineers. I was inspired by how they think, innovate, and create; and I felt a desire to do more than my production job. With encouragement, I stepped out and volunteered to do that "more;" and I'm blessed to work with engineers every day.
What is the most rewarding part of your job?
The most rewarding part is helping others succeed at their jobs! When I break down a long and complicated production process into clear, understandable step-by-step instructions, and the team members on the production floor can build our high-quality products correctly, that's a win for all of us.
What advice do you have for young women who are currently pursuing or considering pursing a career in a STEM field?
Don't choose the easy path in life; choose the interesting path. STEM is the pathway to an interesting career and life!
All experiences in life are valuable — good and bad. They change you and make you the person that you are today. When difficulties come in your life, it is time to learn and grow — so look for the lessons and be grateful.
Is there anything else you'd like to add?
Remember to give back!
Several years ago, I realized that Raven has given me many opportunities to learn, grow, and advance in my career; and I wanted to give back in some way. At the time, my supervisor was mentoring through Lutheran Social Services and the Sioux Falls School District. When I asked, he was happy to share his experiences and what it meant to him. It was the opportunity I was looking for.
I have been mentoring with my student for four years now, and I'm so proud of her! When I started, I just wanted to help and show a child that someone was there, listen, and care for them. Now, it has grown into so much more — a wonderful caring friendship.
Recently, I began mentoring a second student as part of the Raven Inspiring Students to Excel (RISE) program. This is a wonderful program that reaches out to the youth in the community, giving them experience in a real work environment along with high school credits and income.
These two young ladies have enriched my life; and, through mentoring, I have grown in communication skills, leadership and community involvement.
I highly recommend mentoring! If you have a heart for the youth of your community, please consider getting a little of your time. It is so rewarding.