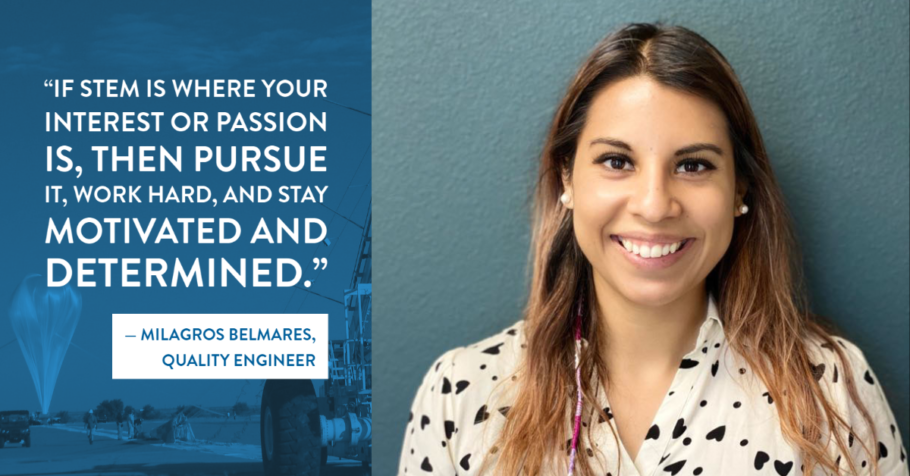 This month's Women of Raven Spotlight is Milagros Belmares, Quality Engineer for Raven Aerostar.
Provide a brief overview of your education and job history.
I graduated from the University of Texas Rio Grande Valley (UTRGV) in December 2016 with a Bachelor of Science in Mechanical Engineering. I completed internships with the Consumer Product Safety Commission in Rockville, MD and at DELL Technologies in Austin, TX. Both were great experiences which allowed me to develop the skillsets needed to work in the field.
Provide a brief overview of your current role and responsibilities at Raven.
I work as a Quality Engineer for the Raven facility in Sulphur Springs, TX. My team creates the big stratospheric balloons for NASA. My priority is to optimize the balloon sealers in order provide efficiency, while also creating ergonomic processes for our team members. I work on making the equipment robust and analyzing data to identify areas of improvement, whether machine-driven or process-driven.
How do you use math and science in your role?
I apply math and science when it comes to solving problems in the manufacturing of our products. While I'm not necessarily working on complex equations, I routinely use statistics and analysis of data to interpret it and identify a problem, or to capture the progress of a temporary or long-term solution.
What inspired you to pursue this career path?
Growing up, my dad used to create things out of random items for school projects. There was this one instance I recall where my little brother was reading a book about airplanes. He had to create a scene from the book, and so my dad gathered up coke cans and created a mechanical aircraft. It had propellers that turned and wheels that moved, and I remember vividly helping him put these things together. I maybe didn't know it then, but my dad had a huge impact on my decision in my career path. I've always enjoyed hands-on work and thinking of multiple ways to overcome challenges.
What is the most rewarding part of your job?
The most rewarding part of my job is the successful completion of a project in which we had to face and overcome challenges. Since our product is unique, challenges are inevitable. But when you work with a team that is determined to complete the project, provides the utmost quality, shares a high-level of integrity, and then achieves a successful flight as a result — that is rewarding.
What advice do you have for young women who are currently pursuing or considering pursing a career in a STEM field?
STEM fields are important, and we need more women representation. There is a misconception that we need to overcome; women are capable of contributing to the STEM field with ideas, solutions, innovations — the list goes on. If STEM is where your interest or passion is, then pursue it, work hard, and stay motivated and determined. Seek women in the STEM field. There are so many that are willing to help and answer any questions or provide guidance from their personal experiences.
Is there anything else you'd like to add?
I identify myself as a minority within a minority: I'm a Hispanic woman in a male driven career. It can be intimidating at times, but it is important to remain confident. Continue to learn every day. Don't be afraid to ask questions and speak up. Women are powerful, and we need them in STEM careers.