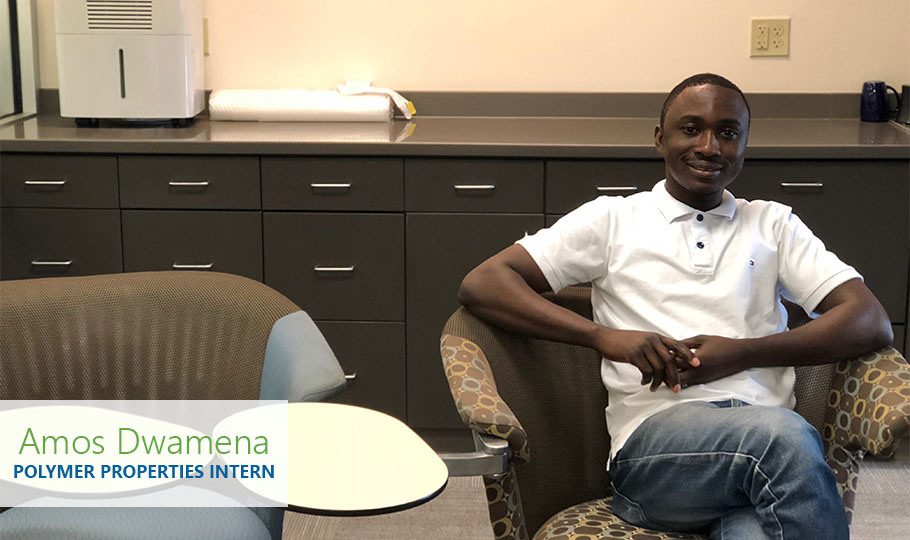 Meet Amos
Amos Dwamena, a Polymer Properties intern at Raven Engineered Films, is entering his fourth year earning his Ph.D. in Chemistry from South Dakota State University. He received his undergrad in Biochemistry from Kwame Nkrumah University of Science and Technology in Kumasi, Ghana, and his master's degree in Applied Chemistry and Biotechnology from Hanbat National University, South Korea.
Summer at Raven
Amos' job as a Polymer Properties intern means ensuring quality in the raw materials from vendors that are processed into final products for customers. Understanding the impact of raw material impurities on welding and seaming is his main project this summer. In addition to ensuring quality of materials, Amos is developing a quick assay to screen incoming raw materials to lessen the amount of wasted materials in downstream processing.
Raven has provided Amos with a great environment to learn and work. He's been able to bond with his mentor, Harry Harlow, Product Development Scientist for Raven Engineered Films, over their backgrounds in biochemistry. Raven's continued innovation has inspired Amos' work.
"Most of the things that they do here, you can't find it elsewhere. That makes it a very good environment to work in," Amos said.
The Raven Value of integrity has been forefront in Amos' work this summer.
Integrity is key. If you do it diligently, with that kind of great integrity, all the other [values] will follow.

— Amos Dwamena
In addition to practicing great integrity, ensuring quality is another focus for Amos.
"If you are getting quality raw materials," he explained, "then you'll be sure about the end results."
Amos advises future interns to ensure dedication in all of their endeavors. He chose SDSU because it offered him a great research program while providing outstanding academics, culture, and teaching staff. He hopes to continue his career in an industry that works with quality of materials and analytical analysis.
More About Amos
Hometown: Kumasi, Ghana
Favorite TV show: Gotham
Fun summer plans: Barbequing with friends
Free time favorites: Watching soccer, listening to music, watching Ghanaian movies
---
Written by Anna Perrenoud, 2018 Marketing Intern, Raven Aerostar
---