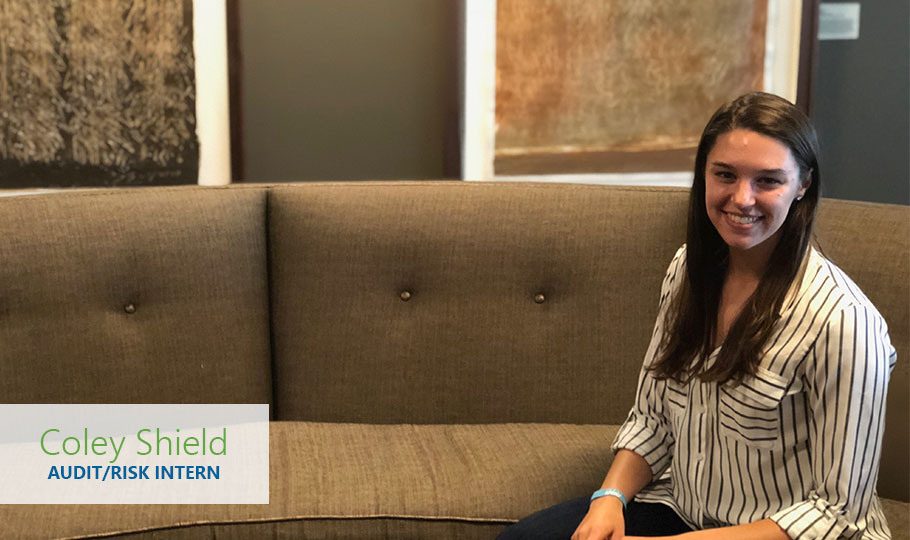 Meet Coley
Coley Shield is an Audit/Risk intern at Raven Corporate Services this summer. Coley will graduate from Augustana University with her Masters in Accounting in May 2019.
Summer at Raven
As an Audit/Risk intern, Coley works on a variety of projects in the Internal Audit department. Much of what she deals with is assessing Sarbanes-Oxley documentation. Coley also helps the department by identifying risk areas in business contracts.
After having previously spent time in public accounting settings, Coley is grateful for the opportunity to experience how internal auditing functions. The focus on controls and risks has given her new skills to master and plenty of chances to learn from her mentors, Pooja Pullman, Head of Internal Audit and Amy Neitzel, Internal Auditor. Intentionality in connecting with peers is something Coley has picked up on so far:
Making good relationships with people makes it easier to do business and just easier to do your job… It makes it a lot easier to ask questions when I don't understand something.

— Coley Shield
Coley is helping solve great challenges in a particular way. "Internal audit is trying to make the company more efficient, we're trying to look at the risks at a large scale and provide assurance over effectiveness of controls, so we're just trying to help the business function better," Coley explained. "The purpose of Corporate Services is to support the divisions, so that's how Internal Audit helps solve great challenges – by making it easier for the other divisions to run efficiently and be effective."
The Raven Value of Integrity has guided Coley as she audits this summer. "In auditing in general, there's a lot of integrity that goes into it just because… you have a lot of confidential information that you know," she explained. "Just having the integrity to know what the difference is between right and wrong, and keeping your personal values and morals in mind as you're going through information."
Any future interns should not be afraid to try something new, Coley encourages. Coley plans to get her CPA after graduating and hopes to work for a company with an innovative culture similar to Raven's.
More About Coley
Hometown: Madison, South Dakota
Recent recommended read: Hawaii by James Michener
Favorite TV show: The Office
Sioux Falls eats: Jacky's Restaurant
Fun summer plans: got married in June!
---
Written by Anna Perrenoud, 2018 Marketing Intern, Raven Aerostar
---