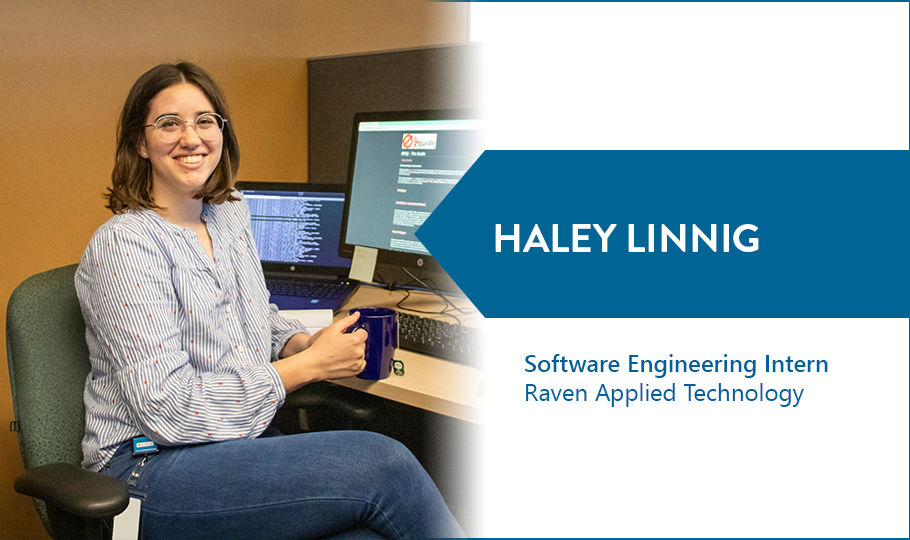 Meet Haley
Haley Linnig joins the Raven team as a junior from the South Dakota School of Mines & Technology, studying Computer Science. Originally from Scottsdale, Arizona, she is enjoying her time at SD Mines in Rapid City and here at Raven Headquarters in Sioux Falls!
Haley initially chose software engineering as a field of study because she has always been interested in languages, and fascinated by the idea of a language that makes a real-life impact. "It's so incredibly cool to see what can be manipulated and made new just by typing words on a screen," she added. Her work as a #RavIntern this summer is already making an impact, solving challenges and helping our systems run more effectively.
Summer at Raven
Haley's typical day starts with getting into the office at around 8:00 a.m. She hits the ground running right away — working on sprints with the Raven Applied Technology software engineering team. A "sprint" consists of a two-week period in which the team completes a set of goals that are set by the team lead or project manager. Haley works in a variety of systems within Applied Technology. The tickets assigned to her range from bug fixes (such as coding errors) to UI improvements (such as renaming fields to be more convenient for end-users).

I'll work on those until it's time for a coffee break, which is — of course — signaled by a screaming goat toy. The office is a lot of fun, and it's been great getting to work with such friendly, helpful, and nice people."
(Author's note: "The Goat" sounded while we were in the middle of our meeting, which meant that we needed to drop everything for a coffee break, even though it was around 4:00 p.m. on a Friday. The software engineering team accompanied us to the Lower Level for this break, because one does not mess with The Goat.)

Haley mentioned that one of the best parts of the internship so far has been the overall welcoming environment at Raven. Her mentor, Software Engineer Andrew Stelter, and the team members that work with her have made it a comfortable transition to Raven by providing a welcoming, collaborative, and team-oriented working environment. This is aided by the fact that our interns have been doing relevant and meaningful work. In addition, she mentioned that the company goes above-and-beyond to welcome all of the interns. The tours of our manufacturing campus and in-depth explanations of our products have helped her see how everything fits together. While only a few weeks in, there have been many learning opportunities to help Haley and all of our interns improve their knowledge in a variety of areas — not just their own.
This internship has already been a great learning experience. I've learned so much about how to approach the unfamiliar. I've been working with code that I've never seen before, using tools that I haven't used before, and using libraries that I haven't had experience with. It's been a really good lesson in how to problem solve within a real working environment as opposed to a classroom setting."
Fun Facts About Haley
Fun summer plans: Going home to Arizona over the 4th of July to see her family and brand new nephew!
Current summer read: Clean Code by Robert C. Martin
"Millennial/Gen Z" slang term of choice: Rad