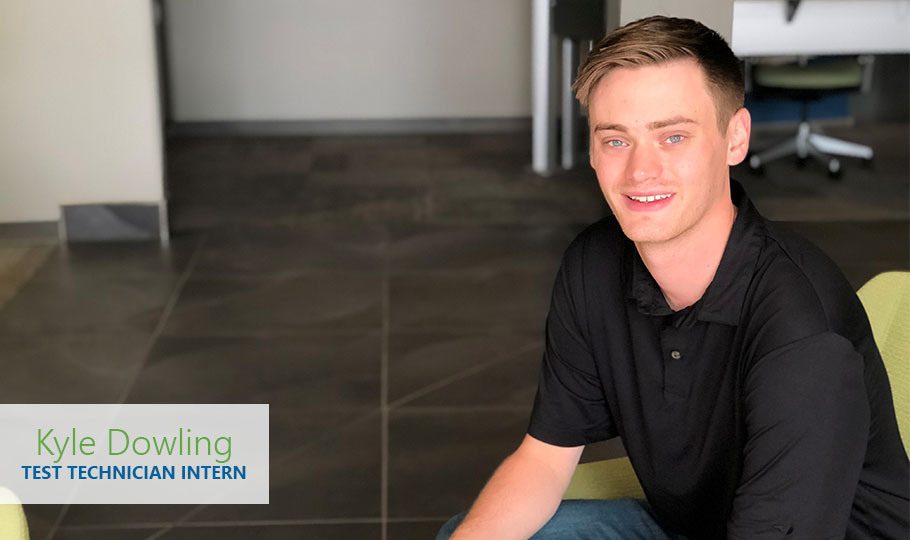 Meet Kyle
Kyle Dowling joined Raven Applied Technology as a Test Technician intern in January. He graduated from Southeast Technical Institute this past May with a degree in Electronic Technology.
Summer at Raven
Kyle's work as a Test Technician intern involves a variety of projects, offering him something new every day. He works with his peers to test the products manufactured on the production floor, ensuring the product is complete and meets the quality standards. Kyle has been able to apply these tests to at least one of almost all Raven Applied Technology products so far.
One of the biggest tests Kyle is conducting this summer is an encoder test, which ensures the correct number of pulses from the motor of the test fixture. If the unit doesn't pass, Kyle and his team analyze why it failed and how it can pass in the future.
Kyle's mentor, Dave Doty, a Test Technician for Raven Applied Technology, has taught him the ins-and-outs of testing. "He's taught me everything that I need to know… how we test our products and how a good test is written and programed," Kyle said of his mentor.
The Raven Values have also guided Kyle as he works; particularly the Value of Drive, which pushes him to work through challenges, especially when there's an obstacle or problem to overcome. "Once you figure it out, it's a great feeling that you completed it," he explained.
Quality, one of Raven's four Dimensions of Competition, matches Kyle's overarching goal of testing – providing the highest quality products to customers and upholding a standard of excellence.
Solving great challenges isn't something that is lost in the day-to-day work:
To solve great challenges, you've got to put in good work, you've got to be patient.

— Kyle Dowling
Future interns should ask questions and learn as much as they can to benefit both academically and career-wise, Kyle advises.
Southeast Technical Institute allowed Kyle to stay close to home while majoring in his desired program. Kyle hopes to continue working in the industry, in a job that offers variety of work between programming, software, hardware, and electrical.
More about Kyle
Hometown: Sioux Falls, South Dakota
Favorite TV show: American Horror Story, The 100
Sioux Falls eats: HuHot
Fun summer plans: kayaking, fishing, playing guitar
---
Written by Anna Perrenoud, 2018 Marketing Intern, Raven Aerostar
---