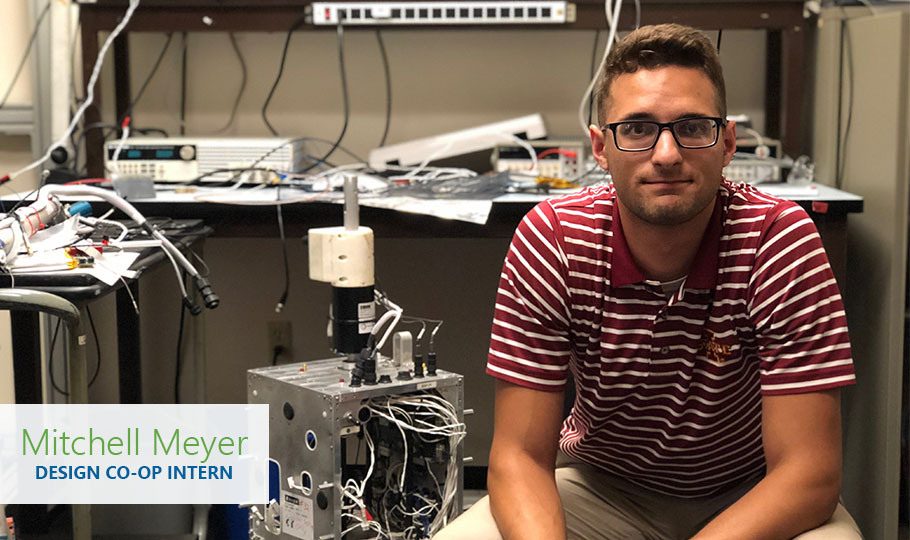 Meet Mitchell
Mitchell Meyer is a Design Co-Op Intern for Raven Aerostar. Mitchell is an Aerospace Engineering student at Iowa State University with plans to graduate in December 2019.
Summer at Raven
Since January, Mitchell has been testing the hardware on Raven Aerostar's Thunderhead Balloon Systems as well as designing new instrumentation for future flights. You might find Mitchell in an engineering lab, but on any given day he could be traveling with the Flight Operation Team around the United States.
This variety in work atmosphere is Mitchell's favorite part of his internship thus far – working on various flight missions presents new challenges in new places. When traveling, Mitchell works with his fellow team members to prepare balloons for launching and assist with their recovery.
Despite not knowing much about ballooning before he started at Raven, Mitchell has picked up an immense amount of knowledge on the subject. Mitchell's mentor, Mark Ketchum, Engineering Team Lead, has taught him the ropes and given him valuable workplace experience.
In addition to having guidance from his mentor, Mitchell also lets the Raven Value of Integrity influence how he works. "There's a lot of a gray area when it comes to ballooning, because it's not as established in the aviation realm," Mitchell said. "A lot of it's a little bit touch-and-go, so it's up to us to do the right thing and not cut corners."
Integrity plays a part in solving great challenges, which is just another day for Mitchell:
A lot of the solutions that we have to come up with, when it comes to ballooning, are all really innovative.


— Mitchell Meyer
"[They are] things you don't see because a lot of these things are not really applicable when it comes to other areas of aviation. We have to draw knowledge from other areas."
After his own internship experience, Mitchell encourages future interns to ask questions to further their learning. The ISU student chose his school because of the close proximity to his hometown and the Aerospace program. He hopes to continue his work with a career in the space industry after graduation.
More About Mitchell
Hometown: Sheldon, Iowa
Recent recommended read: Shaman by Kim Stanley Robinson
Favorite TV show: It's Always Sunny in Philadelphia
Sioux Falls eats: MacKenzie River Pizza
Free time favorites: Kayaking, bonfires with friends
---
Written by Anna Perrenoud, 2018 Marketing Intern, Raven Aerostar
---