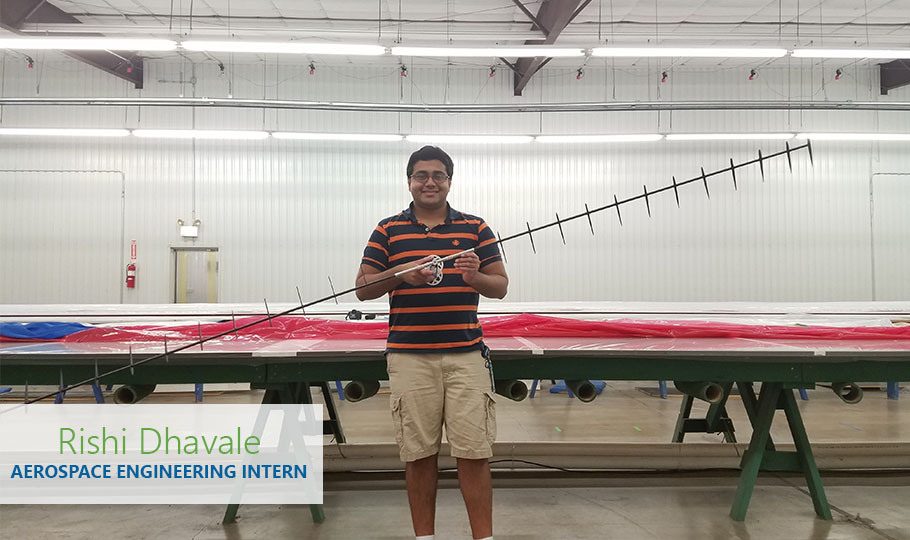 Meet Rishi
Rishi Dhavale is an Aerospace Engineering Intern for Raven Aerostar in Sulphur Springs, Texas. Rishi is a senior at the University of Texas at Austin, majoring in Aerospace Engineering.
Summer at Raven
Aerospace engineering takes on many forms for Rishi as an intern this summer. In addition to programming and fabricating parts, he focuses his work on constructing virtual models and component diagrams related to projects he worked on. His big project this summer is working to increase maneuverability of Raven Aerostar's Zero Pressure Balloons.
Rishi's favorite part of his internship has been his ability to get hands-on experience with concepts he has encountered in his studies. "It really gives a lot of weight to what I've studied and what I will be studying," Rishi said. The environment at Raven has helped Rishi flourish.
It's professional and focused, but at the same time, there is a great sense of comradery that you can feel here.

— Rishi Dhavale
His mentor, Principal Design Engineer Mike Smith, has helped Rishi develop and refine his ideas and mentored him in concepts he has yet to learn.
Solving Great Challenges is something Rishi sees every day. "The amount of effort and planning that goes into creating high-altitude balloons is incredible when you see it for yourself," he said. "Everything has to be done to a high degree of precision and accuracy, and I strive to hold my own work to those standards."
Over the summer, Rishi has learned the importance of Drive, one of Raven's Values. "Drive is essential for growth and the ability to overcome obstacles. It allows you to meet them head on and develop yourself in the process," Rishi said. "By having it, you become focused on seeing your task to the end while ensuring that your work will have the quality that not only meets but also exceeds the standards of others."
Rishi encourages future interns not to worry about the scale of projects, but instead to put energy into the project itself. The University of Texas at Austin offered a top engineering program with a great campus atmosphere, making it the right choice for Rishi. After graduation, Rishi hopes to lead projects in design and simulation in the aerospace industry.
More About Rishi
Hometown: Spring, Texas
Recent Recommend Read: The Count of Monte Cristo
Favorite TV show: Top Gear
Free time favorites: running, building and painting scale aircraft models
---
Written by Anna Perrenoud, 2018 Marketing Intern, Raven Aerostar
---